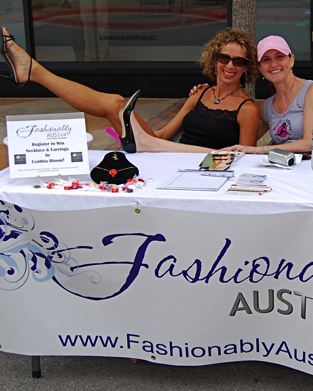 GIVING BACK
Since its beginning in 2002, Cynthia Bloom Collectible Jewelry has believed in making a difference in people's lives and is committed to giving back to the community.
For example, after devastating floods swept away lives and homes in nearby Wimberley, TX, and other Central Texas Hill Country communities on Memorial Day, 2015, Cynthia organized a successful and well-attended benefit trunk show featuring four Austin fashion stars to raise money for relief efforts.
Cynthia's community work focuses primarily on programs that benefit local educational initiatives as well as non-profit charitable organizations with 501(c)3 status.
Our charitable partners include:
American Cancer Society
Austin Disaster Relief Network
Austin Opera Guild
Capitol School of Austin
CARY (Council on At-Risk Youth)
Dell Children's Medical Center
Dell Children's Surgical Global Outreach
Program
Dolly Parton Imagination Library
Hospice Austin
League of Women Voters of the Austin
Area Education Fund
Liveable City Austin
Ronald McDonald House
St. Jude Children's Hospital
Texas Women in Business
Cynthia Bloom and Cheryl Bemis of Fashionably Austin
at the 2009 Stiletto Stampede promoting breast cancer awareness.