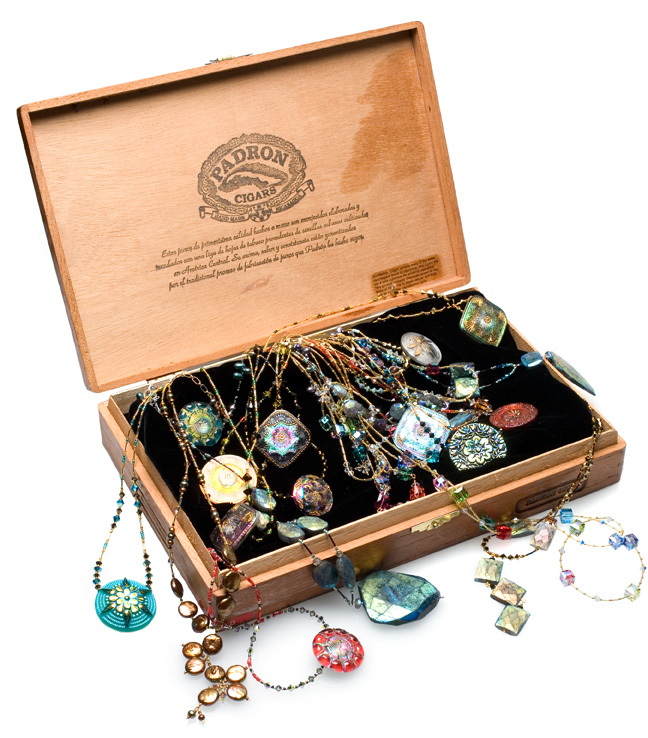 BIOGRAPHY
In 2002, artist Cynthia Bloom was working the proverbial Austin, TX, waitress "day job," searching for her muse. One day, just for fun, she refashioned a friend's tattered heirloom, a once-elegant multi-strand la Belle Époque necklace, into several dazzling contemporary pieces. Restaurant customers clamored to buy them, and she started taking them to work in an old cigar box.
Working with these hand-cut, brilliantly faceted century-old Czech glass beads, Cynthia discovered a powerful personal connection
between modern sensibility and the timeless treasures crafted
by European artisans of a bygone era. In doing so, she
launched not only a new line but also a new genre in
jewelry design in which contemporary flair is infused
with history — Cynthia Bloom Collectible Jewelry.
Today Bloom's jewelry designs have moved out of that old
cigar box into art festivals and galleries, but her signature style continues to feature rare Czech glass beads and crystal buttons. She searches the world for antique bead hanks, vintage crystals in original packaging, iridescent hand-painted buttons (some cast in 150-year-old molds), extraordinary gemstones, and other unique objets d'art to create each of her color-saturated jewelry collections.
As her early cigar box marketing shows, she does not conform to fads or trends. Instead, as Accessories magazine publisher Lori L. Frost observed, Cynthia's jewelry designs "transcend trends."